NHS complaints: New regulator needed, AMs say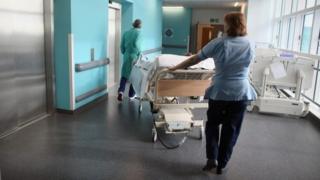 NHS complaints should be handled by a new independent regulator due to a defensive attitude in the health service, an assembly review has said.
The health committee called for a "more open and honest system", claiming there was a "lockdown" culture in the way complaints were currently handled.
AMs were concerned that staff feared victimisation if they raised issues.
The review follows criticism that some patients' concerns were not being heard.
The committee's findings follow a report by ex-Panasonic UK and Ireland boss Keith Evans, which criticised the current complaints system, Putting Things Right.
It made 100 recommendations aimed at strengthening the NHS complaints process.
In a letter to Health Minister Mark Drakeford, the assembly's health and social care committee set out 11 key issues it wants the government and NHS in Wales to consider.
They include:
The introduction of an independent regulator
Accountability and strengthening of leadership
Monitoring of complaints handling
Recording of informal incidents or complaints
Support for staff including feedback
Making complaints data available
Improved response times to complaints
Committee chairman David Rees AM said most patients had positive experiences, but he felt a culture change was needed to improve complaints handling and monitoring to reduce stress on patients and families.
He said: "We believe that, on the rare occasions when things go wrong, the way complaints are handled needs significant improvement.
"Those making complaints, whether staff or patients, should feel able to do so without fear that their careers or care could be adversely affected as a consequence."
The NHS Confederation, which represents local health boards in Wales, said the number of complaints received was less than 0.1% of all patients who had contact with the NHS, but it said it was not complacent.
Director Helen Birtwhistle said the NHS must listen, learn and take action when patients did not receive the high standards they deserved.
"To do this successfully, we must have a complaints system that is clear, consistent and easy to navigate," she said.
"We know from Keith Evans's review that further work is needed in this area and those in NHS Wales are committed to improving the way that they handle concerns and to see them as an opportunity to improve services."