Welsh Learner of the Year 2014 unveiled as Joella Price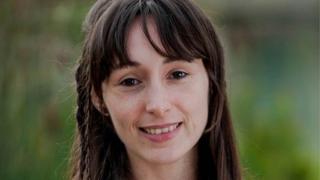 A woman who failed her Welsh GCSE at school but took up the language later has been named Welsh learner of the year.
Joella Price beat three rivals to win the trophy and £300 prize at the Llanelli National Eisteddfod.
She learnt a little Welsh at school in Port Talbot, but had no confidence to use the language then.
She started taking lessons when she moved to Cardiff two years ago.
Joella took evening classes in Welsh when she went to college in Swansea, but as she moved from place to place - living in America, Australia, England and Malta - found it difficult to continue her lessons in the language.
But when she moved to Nottingham in 2009, she joined the Welsh Society and watched S4C programmes online using subtitles.
Now back in Cardiff, where she works in the intensive care unit at the University Hospital of Wales, she is half way through a second advanced course and speaks Welsh with her patients every day.
She says she is keen to continue learning and to become a part-time tutor in the language. She is also teaching her partner Welsh.
"When I was a kid I don't really remember any Welsh at all being spoken on the streets and there wasn't really much choice of Welsh schools around," she said.
"I didn't really have much opportunity to learn it so after school, after I failed my Welsh GCSE, I thought I need to do something about this."
Speaking of her win, she added: "It means a lot that I have jumped this hurdle. It's just lush just to speak it [Welsh] with your friends to be honest."
The runners-up were Susan Carey who is originally from London but has lived in Newport, Pembrokeshire, for nearly 30 years; Nigel Annett, former managing director of Welsh Water and originally from Northern Ireland, but who now lives in Aberyscir, near Brecon; and Holly Cross who was born in Carmarthen but who was brought up and educated in England.