Merthyr Tydfil steam train heritage plans unveiled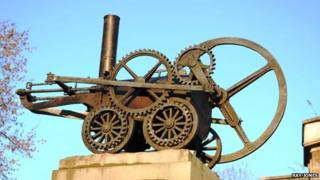 A heritage centre could be built to retell the story of the first ever steam train journey in Merthyr Tydfil.
A £20,000 study will also be carried out to see whether the four-hour journey to Abercynon, made by Richard Trevithick in 1804, can be replicated.
The plans also include proposals for a working replica of his first steam train, the Penydarren locomotive.
The Merthyr Tydfil Heritage Regeneration Trust project has been backed six valleys councils.
It will look at whether the journey of the first engine, which pulled five wagons carrying a 10-tonne load of iron and 70 passengers along nine miles (14 km) of tram rails, can be recreated.
The journey, which reached top speeds of 5mph (8km), is said to have pioneered the use of high pressure steam engines.
As well as the heritage railway track, the project will also look to promote the remains of the Cyfarthfa furnaces, which were reputedly the largest ironworks in the world by the beginning of the 19th Century.
Merthyr Tydfil Heritage Regeneration Trust has commissioned the feasibility study backed by the EU-funded South East Wales Community Economic Development (Sewced) programme.
Sewced is supported by Merthyr Tydfil, Bridgend, Blaenau Gwent, Caerphilly, Rhondda Cynon Taf and Torfaen councils.