Ex-hurricane Bertha heads to Wales causing gales and downpours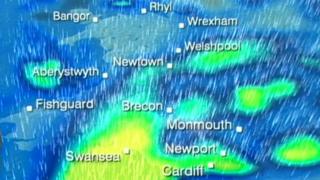 Heavy rain and gale force winds are expected to batter Wales over the next 24 hours, the Met Office has said.
It has issued a yellow "be aware" warning for the whole of Wales as the remnants of ex-hurricane Bertha move through the Atlantic and towards the UK.
The bulk of the downpours and blustery winds are due in the early hours of Sunday.
Gales have also been forecast along the coast.
The storm has been moving across the Atlantic after hitting islands in the Caribbean.
It is due to move into Wales late on Saturday evening, with the bulk of the heavy rain expected in the early hours of Sunday.
A Met Office spokesman said: "There is the potential for widespread rainfall totals of more than 50mm and coastal gusts of over 60mph, along with large waves."
But he added the storm was difficult to predict and could pass without problems.