Gold watch given to son 53 years after father lost it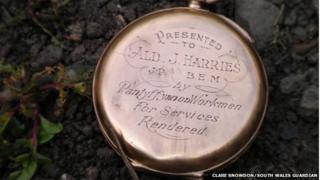 A gold watch found in a west Wales field has been given to its owner's son 53 years after it went missing.
Metal detector enthusiast Martin Matthews came across the missing heirloom in Betws, Carmarthenshire, just months after taking up the hobby.
An inscription on the back showed it had been presented to local poet and author John Harries, who died just a year after receiving it in 1961.
Mr Matthews tracked down 83-year-old Gwynallt Harries, John's only son.
He told BBC Wales: "The man who was presented with the watch was John Harries and he was quite an important person back in the day.
"He was a poet and an author and a local councillor."
The inscription on the watch read: "Presented to Ald. [Alderman] J. Harries J.P. B.E.M. by Pantyffynnon Workmen for Services Rendered."
'Priceless'
Mr Matthews, 42, from Glanamman, did some research on Mr Harries and with the help of the local newspaper managed to track down his only child, Gwynallt Harries, who is in his 80s and lives in a nursing home.
He said Gwynallt Harries was now blind but had been very emotional as he felt the watch which belonged to his father.
Mr Matthews said he was pleased his new hobby had proved to be so useful.
"I've found lots of old coins but I never thought I'd find anything gold. I took the watch to two local jewellers to see if it could be repaired for the rightful owner but the innards were beyond repair," he said.
"They said the gold was worth about £150 to £200. Some people said I should have sold it for the value of the gold but I wouldn't have slept at nights if I'd done that.
"It's priceless for that family."