Real Madrid fans gather in Gareth Bale's Cardiff for Super Cup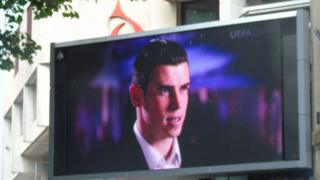 A Spanish invasion of the Welsh capital is underway - but two little words will help you overcome any language barriers: "Gareth" and "Bale".
Thousands of Real Madrid and Sevilla football fans are in the Wales superstar's home city for the sell-out Uefa Super Cup and there is no shortage of opinion on his merits.
This is an all-Spanish affair between the winners of last season's Champions League, Real, against the team that claimed the Europa League title.
In essence a friendly, that is reflected in the atmosphere on the streets ahead of the match at the Cardiff City Stadium.
The tapas restaurant in the High Street could never have had a busier Tuesday morning, as fans of both clubs mixed happily for beers and snacks.
The busker outside caught the rapidly changing weather, as he hopped between Here Comes The Sun and Singing In The Rain.
In The Hayes, there was a flamenco-style group trying out Hotel California. Pushing it a little there.
It was a first visit to Cardiff for Pablo Bernados Ponce, from Cadiz, although he'd heard of the city before Bale's arrival in Madrid, thanks to fellow Cardiffian, Wales and Manchester United legend Ryan Giggs.
"For me, Cristiano Ronaldo is still the player - but Bale is going to be an icon, like him."
Ruben Fernandez, 43, from Santander, who flew into Bristol this morning, thought the £85m Real paid for Bale from Spurs nearly a year ago was money well spent.
"It's the market, it's what you have to pay. Bale is very athletic, he's strong and he's fast, technically very good."
Angel, 10, was having his photo taken with his father Sergio Rivera outside the Millennium Stadium and knows Bale can perform in the big matches - including crucial goals in the Champions League and Spanish Cup.
"He's good because he runs very fast - and he plays in two finals and he scores," said Angel.
Fans Antonio Trigos and Juan Vicente Lopez flew in from Madrid on Monday and can only see world record signing Bale getting better.
"Last season was difficult for him at the start because of the transfer, the money, it was hard but he completed a good season," said Antonio.
"But this season he's going to be very similar to Ronaldo for us - they will be our two best players."
Despite a squad worth a mind-boggling £500m, Juan Vicente believes Real still need strengthening.
"We still need at least two players - different kinds of players, it's not just enough to attack."
GARETH BALE: REAL-LY ROOTED IN CARDIFF
Born on 16 July 1989, Cardiff, the youngest of two children - he has a sister Vicky - to parents Frank, a retired school caretaker and Debbie, who works at a solicitors
He attended Eglwys Newydd primary school and Whitchurch High School, where he played football alongside Wales rugby captain Sam Warburton as well as rugby, hockey and athletics.
Bale came to the attention of Southampton FC as a nine-year-old player.
He broke into Southampton's first team in the Championship in 2006 at the age of 16 and a month later became Wales' youngest international.
Tottenham signed him in May 2007 for a transfer fee that rose to £10m
He was named the Professional Footballers' Association player of the year and young player of the year in 2013.
In September 2013, he signed for Spanish giants Real Madrid for a world record £85m and scored 15 goals in 27 La Liga appearances.
In May 2014, he scores in extra time to help Real win the Champions League against Madrid rivals Atletico.
Despite Bale's impact, the names Ramos and Ronaldo were still more popular names on the backs of shirts.
But that will surely change - and soon.
Cardiff, meanwhile, was putting on a show for organisers Uefa and 25,000 supporters, with hopes of being one of the host cities for the 2020 European Championships.
The only thing it could not fix was the rain. Perhaps that's why Bale moved, thought Antonio Trigos.
"Madrid is like paradise," he said.
But the castle grounds were busy, the bus tours were filling up - and the face of Bale was staring down as the perfect ambassador for his home city.