Heritage group buys bus return ticket from South Africa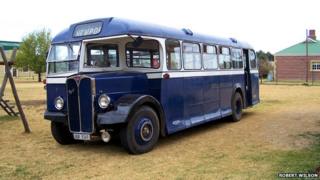 The last single-decker bus to be produced in Cardiff is a step closer to coming home from South Africa.
The 35-seater bus built at Bruce Coach Works in Tremorfa in 1951 plied routes for the former Bedwas & Machen Urban District Council for 20 years.
It was bought by an enthusiast whose job took him to South Africa and it is now in an Orange Free State museum.
The Cardiff Transport Preservation (CTP) Group have raised £14,000 towards the £20,000 needed to bring it home.
The Sandstone Heritage Trust, which runs the museum, has agreed to let the bus return to Wales if the group can raise the funds.
CTP Group chairman Mike Taylor said: "It is good to report that just over six months later we only have a few thousand more to raise.
"The company that built it was once called Air Dispatch Ltd of Croydon but they moved to Cardiff to avoid enemy action in south east England during World War Two.
'Golden age'
"Coming to Wales they diversified as the war came to an end and rebuilt war-damaged vehicles and later produced new buses and electric trolleybuses under the Bruce Coach Works name."
According to Newport-based bus enthusiast Jason Huws, the passing of companies such as Bruce represented the end of the vehicles' golden age.
He said: "Mechanically this bus would be similar to thousands of vintage buses up and down the country. It would have been the same engine and chassis supplied to thousands of operators.
"What's unique in this period though, is that councils would employ local coach-builders to create bespoke bodyworks for their specific needs. It meant that each area had its own highly distinctive fleet of buses."
However, the Bruce bus would undoubtedly have proved far too sedate for the woman who founded the Cardiff coach-builders: Mildred Mary Bruce.
Speeding ticket
In the 1920s she laid claim to three remarkable achievements.
She was the first woman to drive a speed boat non-stop from Dover to Calais and back, was one of the first to fly solo around the globe, and was the first woman to be issued with a speeding ticket on UK roads.
But by the time her son Anthony took over the business in 1948, bus fleets were already being amalgamated into larger companies utilising generic mass-produced vehicles.
It meant that just three years later Bedwas No. 7 became the very last bus to roll off a production line in Wales.