First rise in amount of traffic on Welsh roads since 2007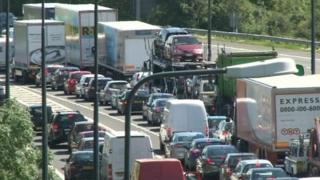 The volume of traffic on roads in Wales has risen for the first time in five years.
Official statistics show the overall figure for 2013 is still lower than the peak of 2007, but the use of major trunk roads has increased.
Traffic volume was 27 billion vehicle kilometres last year, equivalent to 5,500 miles per head of the population.
Transport charity Sustrans Cymru described the rise as "worrying but not surprising".
"We already know that people are unable to access affordable public transport and increasingly forced into car dependency," said Sustrans Cymru deputy director Carys Thomas.
"If the Welsh government is serious about tackling physical inactivity, congestion and pollution, then the focus must be on making sure that both rural and urban areas have access to reliable and affordable public transport choices, such as the South Wales Metro, rather than sky high, outdated investment in new roads such as the £1bn M4 relief road outside Newport."
How is traffic volume measured?
Traffic volume is measured using vehicle kilometres, which are calculated by multiplying the annual average daily flow of traffic by the corresponding length of road. For example, one vehicle travelling 1km a day for a year would be 365 vehicle kilometres over a year.
Campaigners fear last month's Welsh government announcement of a M4 relief road around Newport could put the other projects at risk, like the introduction of a metro to improve links between Cardiff and south east Wales, and further rail electrification.
According to Dr Daniel Newman, a transport specialist at Cardiff University's Sustainable Places Research Institute, the upturn in the Welsh economy is a key factor in the rise in car use.
"Higher fuel prices saw drivers reassess their mobility habits, consciously taking less trips by car by identifying the most necessary - like commuting and prioritising those over the more frivolous, such as leisure," he explained.
"However, the primacy of cars and increasingly vans, has begun to reassert itself and is expected to keep on rising as Wales begins to return to normal.
"Hopefully, though, the work of groups as Sustrans can help retain the momentum for sustainable mobility such as cycling despite the first signs of economic recovery."
Traffic volume reached a peak of just under 28 billion vehicle kilometres in 2007 and reduced year-on-year to 26.76 billion vehicle kilometres in 2012.
The figures are released by the Welsh government's statistics service sourced from the Department for Transport.
In response, a Welsh government spokesperson said: "We are committed to the M4 infrastructure project, which is of vital importance to the economic prosperity of Wales.
"The early access borrowing powers agreed between us and the UK government were specifically for the enhancement of the M4 around Newport.
"The enhanced borrowing powers which will be switched on following the devolution of tax powers will allow us to invest in other infrastructure projects across Wales."