Rain warning issued for parts of Wales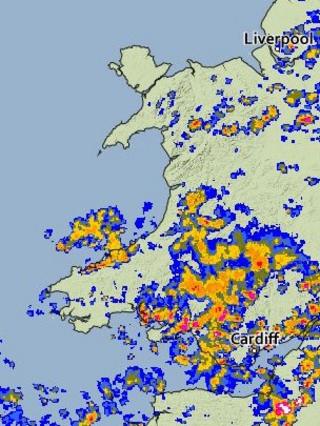 A warning of severe rain has been issued for parts of Wales with the threat of localised flooding and lightning predicted.
The Met Office said Powys, Monmouthshire, Carmarthenshire and Ceredigion were likely to be affected by heavy rain which is forecast for Thursday afternoon and evening.
It is expected that heavy showers and thunderstorms will become more widespread through the day.
Intense downpours are expected.
According to the Met Office: "The public should be aware of the risk of localised surface water flooding, with the added hazard of lightning in some areas.
"An unstable and moist flow across southern parts of Britain will provide the basis for some intense showers through today, and with the winds lighter than recent days, these will last longer where they do occur, perhaps producing in excess of 30mm of rain in two or three hours in a few localities.
"But as so often happens on showery days, some places will escape the worst."