Passport Office error lands couple airport 'nightmare'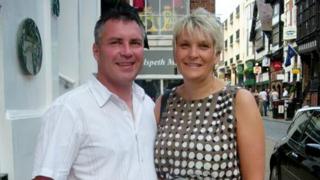 A woman about to board a plane for a 50th birthday "trip of a lifetime" to New York was stopped by police because they thought she had a stolen passport.
Karen Price from Abergele, Conwy, missed her flight after she was taken away for questioning.
But the Passport Office had made an error as the missing passport was stolen three years ago and belonged to a different Karen Price.
The Passport Office apologised saying the case was "extremely rare".
Mrs Price said it was "embarrassing" to be stopped just as the couple and their friends were about to board the plane, after clearing check-in and security and waiting more than two hours in the departure lounge at Birmingham Airport.
"I honestly thought it was a joke they were playing on me, I just couldn't believe it, I thought it was a wind-up," she said.
Her husband, Aidan, said: "It was a big deal, we had friends coming over to meet us and we had booked helicopter rides and excursions for the whole trip.
"It was a once-in-a-lifetime trip really - the whole situation was an absolute nightmare."
The matter was quickly cleared up with the police but the couple were told they had to go a passport office to rectify the problem.
They managed to get an appointment two days later in Liverpool.
Mrs Price said: "While we were there they said another Karen Price had reported her passport stolen in January 2011 and it had only been put on the system in April 2014.
"The only problem was it was against the wrong Karen Price."
'Scared to death'
"I'm flabbergasted they didn't do more stringent checks to deal with the cancellation of a passport.
"What if someone else had picked it up and had tried to use it? I'd used my passport five times."
The couple were given replacement flights to Newark by United Airlines but had to "cram in" the trips and excursions they had arranged.
She added: "Well, my birthday trip will never be forgotten, that's for sure.
"Every time I go to the airport now I will be scared to death until I get on the plane. I won't be able to relax until then."
A Passport Office spokesperson said: "We apologise to Ms Price for the inconvenience caused.
"It is extremely rare for passports to be cancelled in error. If a mistake does occur it is fully investigated and resolved as quickly as possible."