£25,000 Cardiff pylon cable gang must pay £1 each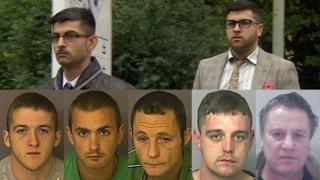 Seven thieves who risked their lives to scale high voltage electricity pylons to steal 45 tonnes of metal cable will only have to repay £1 each towards the proceeds of their crime.
The gang from Cardiff, who were jailed last December, have no money left even though they made £25,000 from selling the copper as scrap.
A judge at Gloucester Crown Court made nominal confiscation orders.
The theft happened on farmland in Frampton on Severn, Gloucestershire.
Investigators found the men had no assets that could be seized, a proceeds of crime hearing was told.
'Foolhardiness'
The men were all jailed for conspiracy to steal cable from the 100ft tall pylons.
They managed to cut cable from both ends of the live copper conductors on the pylons making off with around 7,000m.
It was rolled up and taken back to Cardiff where the gang sold it on, each making £3,571.42.
But the theft cost Western Power Distribution a total of £150,000 to repair the damage.
The judge told the gang it was "considerable audacity bordering on foolhardiness".
Brothers Vijay, 24, and Umar Chohan, 26, of Ely, Cardiff, were each jailed for two years.
The others, who were jailed for between 21 and 30 months, were Liam Murphy, 24, of Llandough, Stephen Phillips, 52, Martyn Richards, 27, Paul Condick, 30, and Nathan James, 35, all of Ely, Cardiff.
Two of the gang were caught after being stopped routinely by police and this led to the others.
The judge said that if any of the men come into money at a later date it can be confiscated from them.