Solar farm bid on Gower peninsula by community group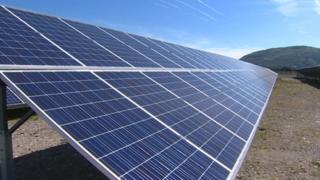 A community group is bidding to build a five-acre solar farm on Swansea's Gower Peninsula, the UK's first Area of Outstanding Natural Beauty (AONB).
The proposal by Gower Power Community Co-operative would see the 1 megawatt (MW) solar farm on a 15-acre (6 hectare) site north of Ilston.
It is estimated the 4,000 panels would generate enough power for 300 homes, with the group saying profits will fund its agricultural work.
The scheme is recommended for approval.
The Gower Society is among 27 objectors to the plans which has also received 77 letters of support.
Gower was the UK's first designated Area of Outstanding Natural Beauty and has a number of historic sites.
In its letter of objection, the Gower Society wrote that it had "faced many threats to Gower over the last 66 years and we see this application as having the potential irrevocably to damage the landscape as we know it".
It added: "Gower and the AONB are the jewels in the crown of Swansea and we urge you to reject this application and not allow the policies to be manipulated to allow a development that has no place within the very first AONB to be created."
'Sheep'
The community cooperative says only a third of the site will be given over to solar panels and sheep will be able to roam and graze underneath them.
Director Ant Flanagan said: "There is currently a community group of 17 members who have reared 34 sheep, planted over 100 fruit trees and bushes, as well as 1,670 trees.
"The community-supported agriculture scheme will provide weekly fruit and vegetables to around 40 families.
"Developing the solar farm on this site, and deriving predictable revenue, will facilitate the expansion and development of these agricultural projects."
The proposal goes before the council's development control committee on Tuesday.