Muslim leader says spotting radicalisation is a challenge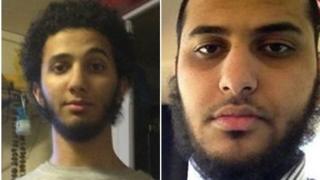 A Muslim leader in Wales has spoken of the difficulty of identifying people at risk of being radicalised.
The Muslim Council of Wales' assistant secretary general was reacting to calls by the UK's head of counter-terrorism for communities to helps spot signs.
Assistant Commissioner Mark Rowley made his appeal after the murder of US journalist James Foley in Syria.
Abdul Azim Ahmed said it was a "challenge" as those being radicalised could cover their tracks.
He said families, the community and the authorities were all facing difficulties of spotting the signs of those at risk of being radicalised.
"Even parents are finding it very difficult to know when their children might be planning something like this," Mr Ahmed told BBC Good Morning Wales.
"Part of the problem is they become radicalised when they withdraw and step away from the all support structures around them, which includes school, the family and the mosque."
Three men from Cardiff, Nasser Muthana, 20, his friend Reyaad Khan, 20, and younger brother Aseel Muthana, 17, are believed to have joined jihadists fighting in Syria.
In June, Mr Muthana and Mr Khan appeared in an online video filmed in Syria apparently urging Muslims to join Isis (Islamic State in Iraq and the Levant), now known as Islamic State (IS).
In an online conservation with BBC Wales, Mr Muthana said he was prepared to die for the cause.
Mr Ahmed said families were not putting their heads in the sand but people were being radicalised in different ways and not through mainstream institutions and mosques.
Appeal
He said like with involvement with crime, those being radicalised start covering their tracks and that was part of the challenge.
He added: "I would fear that many don't know what the signs are and would confuse religions conservatism with the signs of becoming a violent extremist."
Mr Rowley, who is the UK's head of counter-terrorism, said: "We are appealing to the public, family members and friends to help identify aspiring terrorists.
"They may be about to travel abroad, have just returned or be showing signs of becoming radicalised."
He asked for people to watch out for any suspicious change in behaviour, such as selling their possessions or raising money to travel abroad.