Rise in lending to first-time home buyers in Wales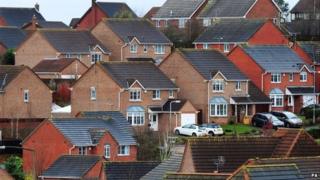 There has been a "substantial growth" of first-time buyers getting on the property ladder in Wales, according to building societies and banks.
The Council of Mortgage Lenders (CML) said 3,300 loans were approved between April and June - a jump of nearly a third on the first quarter of 2014.
The average home price in Wales for a first-time buyer was £112,500.
Lending for all house buying in Wales was also up 24% to £790m compared to the first three months of the 2014.
There was also a drop in the number of homes being remortgaged.
Peter Hughes, chair of CML Cymru, said the growth follows an upward trend for first-time buyers reported earlier in the year.
"The affordability constraints are less in Wales compared to the UK overall, which suggests there are relatively favourable conditions for those looking to own a home," he said.
First-time buyers were borrowing on average £99,000 each, according to the figures compared to the UK average of borrowing £122,000 for a house price of £147,000.