'Ring of steel' for Nato summit in Newport and Cardiff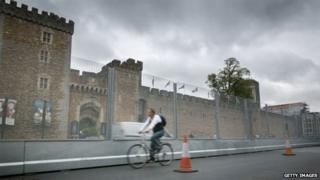 It has been described as being like the location for a sci-fi movie, but Cardiff city centre and roads around Newport have taken on an unfamiliar look as security tightens ahead of the Nato summit on 4 and 5 September.
A "ring of steel" has been erected around summit venues in both cities.
It crosses parks, roads and even rings castle walls.
More than 150 heads of state and ministers will attend along with 10,000 support staff and 2,000 journalists.