Job fears in Barclays office closure in central Cardiff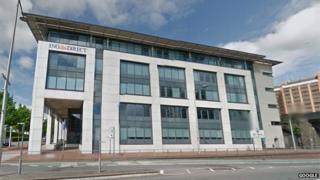 Fears of jobs losses have been raised over the possible closure of a city centre Barclays office in Cardiff.
Around 100 staff work at the site in Callaghan Square, which is in the central business district of the city.
Officials from the Unite union said it was expected some of those posts would go.
Barclays said it was too early to say how many jobs would be made redundant but it would make every effort to redeploy staff.
It said it hoped around 50% of the posts affected would be moved to a site in Windsor Court in Cardiff and the rest to sites in Northampton and Birmingham.
'Great disappointment'
A spokesman for the bank said: "Barclays has begun a consultation with PPI and Specialist Complaints colleagues at Callaghan Square, Cardiff, about a proposed reorganisation of part of its PPI and specialist complaints services function.
"Should the proposals go ahead, we will work closely with affected colleagues to minimise any compulsory redundancies."
The office has been occupied since 2005 by ING, which was acquired by the bank in 2012.
All 750 ING Direct UK staff and 1.5m customers were transferred to Barclays.
But the ING operations have been winding down and many have already lost their jobs since the takeover according to the Unite union.
Steve Pantak from Unite said: "Barclays decision to close this office is a great disappointment and a massive blow to the experienced and loyal workforce who work at the site.
"It is also very bad news for the city of Cardiff and the economy of south Wales as we see any hope of saving many of the jobs that transferred to Barclays with the purchase of ING Direct dashed once and for all.
"Unite acknowledges that some alternative roles have been identified but calls upon Barclays to ensure that all staff are given the opportunity to relocate to alternative employment in other parts of the business.
"We will be working flat out to ensure that Barclays meets its obligations and offers the maximum support possible to its employees affected by this decision."
Analysis
Brian Meechan, business correspondent
This is a major blow for those workers threatened with the loss of their jobs.
There had been some hope that Barclays would continue operating in Callaghan Square when it took over from the Dutch bank, ING, in 2012. It's also a blow to the Welsh government and Cardiff Council's efforts to build a financial services enterprise zone in the heart of the capital.
It's seen investment in new buildings, such as No. 1 Capital Quarter, with the promise of further developments including improved rail links to London to attract banks and other financial companies to the city.
Additional funding from the Welsh government is also available for firms moving to parts of the zone due to its special status as an "assisted area".
Jobs are being created in the enterprise zone too though with accountancy firm, Deloitte, and cyber security company, Alert Logic, announcing over 200 new posts in the coming years.