Orphaned baby polecats rescued by RSPCA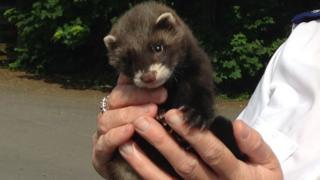 Three baby polecat orphans have been rescued from three different locations.
One of the creatures was just four weeks old when it was discovered in Llandovery, Carmarthenshire, and has had to be hand-reared.
The other two were found in Carmarthenshire's Brechfa forest and near Borth in Ceredigion.
Polecats were driven to the brink of extinction in Britain early last century after persecution by farmers and gamekeepers.
They were limited to a small area of Wales but are now on the rise again and can now be found throughout Wales, the midlands and central southern England and parts of Scotland.
Ellie West from the RSPCA said she had only dealt with two polecats in 15 years.
"It is quite unusual to have so many babies found in such a short period of time," she said.
"They were not injured, but they had all been found without their parents who had not returned to them," she said.
Polecats
They are closely related to the domestic ferrets and have blackish hairs with yellow under fur on the body, and dark "bandit" patches around the face
Their name comes from the French 'poule chat' or 'chicken cat' because they were thought to be a threat to poultry
The polecat's diet consists of rabbits and rats and they are often found around farm buildings in winter hunting rats
In the wild, a female polecat usually has one litter of five to eight kits per year in May/June
Babies are born hairless and blind and begin to eat meat from three weeks. In September/ October, the kits leave the mother to try to build a territory of their own
Although they occur in a wide range of habitats, they prefer lowland areas such as valleys and farmland with hedgerows and small woods