Solar farm bid on Gower peninsula is rejected by council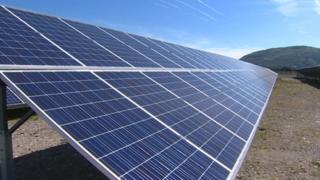 A bid to build a five-acre solar farm on the UK's first Area of Outstanding Natural Beauty has been rejected by Swansea council.
Gower Power Cooperative had asked to install 4,000 panels on a 15-acre (six hectare) site on the Gower peninsula.
Planning officers had recommended approval on the basis there would be "no significant visual impact".
But after 27 people wrote letters objecting to the plans, the application was rejected.
The cooperative wants to construct a one megawatt (MW) solar farm just north of Ilston.
The application said the site would have been mixed with community farming, with panels raised off the ground high enough for sheep to be able to graze underneath them.
Gower Power director Ant Flanagan said he feels let down by the decision, pointing out that there were 77 letters and 3 speakers in favour of the project.
He said: "I think our plans were badly misrepresented in the meeting.
'Landscape'
"We'd hired a landscape architect to ensure that there would have been no damage to the beauty of the area.
"In fact our desire to preserve that beauty for future generations was what motivated us to come up with the idea for a mix of sustainable farming and renewable energy."
Opposing the scheme, preservation group The Gower Society argued it had "the potential to irrevocably damage the landscape as we know it".
Gower Power said they were awaiting a written copy of the adjudication before deciding whether they have grounds to appeal.