Businesses need more hardship help, says FSB Wales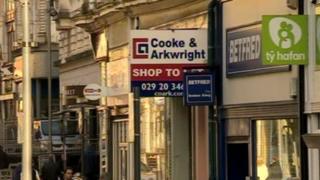 Not all struggling firms have the help they need from councils, says the Federation of Small Businesses Wales.
FSB Wales found half of the 22 authorities did not offer hardship relief to firms hit by short-term crisis in the last three years.
Councils can give relief to businesses which would be a loss to the community if they failed.
The Welsh Local Government Association (WLGA) said councils are "enthusiastic promoters of the local economy".
In three years £804,000 was given out, a Freedom of Information request found.
Ceredigion council was the best performer helping 31 firms, while Neath Port Talbot council handed out the most money at just under £350,000.
But neighbouring Pembrokeshire, along with Swansea, Rhondda Cynon Taf, Anglesey, Blaenau Gwent, Bridgend, Gwynedd, Merthyr Tydfil, Monmouthshire, Torfaen and Wrexham did not offer anything.
'More publicity'
Businesses eligible for the fund include shops, pharmacies, or pubs, which are the sole firm in their village, or employers which are particularly important to their local area.
FSB Wales policy unit chairwoman Janet Jones said local authorities should be offering hardship relief.
"It is a very specific relief designed to help local businesses that are important to the local community when they need it the most," she said.
"As we have seen in the case of Ceredigion, some councils have made good use of these powers and have been good at publicising to businesses in their county that this relief exists.
"Given that some authorities have made such good use of this form of relief it is disappointing that others have made no use of these powers at all in recent years.
"We would call on those local authorities that have not paid out under this scheme to do more to publicise hardship relief and to offer it to assist deserving local businesses in the interests of the communities that they serve."
'Risks'
A WLGA spokesperson said local businesses benefit from around £90m of mandatory reliefs every year and councils also invest a further £95m in economic development activity.
He said: "Hardship funding is a matter for each individual local council and must be partially funded by the council taxpayer.
"When awarding business rates relief, local councils have to weigh up the benefits of such schemes to businesses and the local economy alongside the risks of not being able to invest in vital local services."