Nato summit: How schools are affected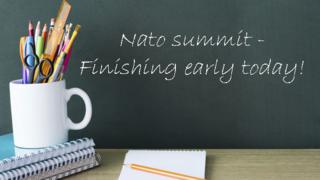 The Nato summit is due to bring disruption to around 110 schools in south Wales at the end of this week.
Some schools in Newport, Cardiff and the Vale of Glamorgan have already planned to send children home early or change the school timetable.
Around 40 are expected to shut altogether or have inset days.
One school in Torfaen is also closing, because some pupils travel in from Newport.
In Newport, of the 61 schools, only five will operate as normal on both days.
In Cardiff only four schools will be fully closed, around 40 will have reduced hours, with many schools closing for the afternoon session.
In Vale of Glamorgan the majority of schools will finish at 14:00 BST on Wednesday and on Friday. On Thursday they will start later at 11:00 BST.
Ysgol Gyfun Gwynllyw in Torfaen is affected. It is closing on both days as around 259 of its pupils travel in from Newport.
In Monmouthshire, Caldicot and Chepstow Comprehensives will finish an hour early on Thursday,
Anyone with a child of school age an living in one of these areas is advised to direct any questions to the school on Tuesday or Wednesday.