Betsi Cadwaladr C. diff rate improves but is still high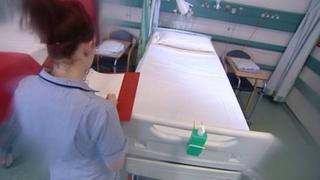 The superbug Clostridium difficile (C. diff) infection rate at Wales' biggest health board is still above average but has improved, new figures show.
Betsi Cadwaladr University Health Board was severely criticised last year over its handling of the disease.
A report to the board on Tuesday said over 12 months it had an average of 49.34 cases per 100,000 of population - the Welsh average was 45.84.
The health board runs health and hospital services across six counties.
In a report to the board, Angela Hopkins, the executive director of nursing and midwifery, says the figures for the region are now much more in line with the all-Wales situation.
Between April 2013, and March this year there were 24 deaths related to C. diff infection.
In 12 of them the infection was directly responsible while it was a contributory factor in the others.
Complaints
Since April this year three deaths have been recorded, one of them directly due to the infection.
Last year the health board apologised after 30 patients died while suffering from the infection during an outbreak at Glan Clwyd Hospital, Denbighshire.
The chairman and vice-chairman stood down after the NHS body was severely criticised by health and audit watchdogs over its handling of the disease outbreak, among other management failings.
The meeting also heard the number of formal complaints against the health board rose 9% on the previous year and were not being dealt with as quickly as required.
Ombudsman
The report by interim director for quality assurance Vicky Morris said 1,743 complaints were made during the 12 months to March this year, a rise of 143.
However only 33% were responded to within the required 30 days, compared to 40-43% the previous year.
She said: "Significant actions have been taken, however the pace of improvements and change has not been fast enough to provide public confidence and for the health board to gain the full assurance required."
Mrs Morris said the lack of effective systems and processes, and support of patients and complainants resulted in a total of 79 complaints being referred to the Public Service Ombudsman for Wales, 59 of which were investigated.