Four arrests at anti-Nato protest in Cardiff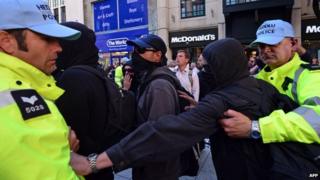 Police say four people have been arrested in Cardiff during a demonstration against the Nato summit which is being held in Newport.
BBC reporters say about 350 protesters turned up to demonstrate outside Cardiff Castle where world leaders attended a dinner.
The number of campaigners in the city was lower than anticipated.
Hundreds more onlookers also turned up at the castle to see key figures arrive.
The arrests included:
A 21-year-old man from Cambridge for a public order offence and possession of an offensive weapon
A 49-year-old woman from Cardiff for obstructing police and attempting to prevent an arrest
A 24-year-old woman from Cardiff for obstructing a police officer
A 54-year-old man from Surrey for breach of the peace
Ch Supt Alun Maxwell Thomas from South Wales Police said the four had been dealt with "appropriately and proportionately".
"Police liaison officers spent time engaging with those people due to be involved in the protest activity, which was the case for every protest so far leading up to and during the NATO summit," he added.
"Only a very small minority were involved in criminal activity with the majority protesting peacefully."
It was the second demonstration of the day after 250 people marched from Newport to the Coldra roundabout to the summit entrance.
The numbers again were lower than expected.
During the Cardiff protest, a group led loud chants at the city's Aneurin Bevan statue and several protesters took to a podium to make speeches with a megaphone.
The mood in the area was been generally "good natured" with many people taking pictures of the security operation and large numbers of mounted police.
Police officers carrying helmets lined Castle Street, outside the castle, standing a few metres apart in between the ring of steel and the crowd barriers.
BBC reporters said spectators were four to five people deep with lots of people hoping to catch a glimpse of US President Barack Obama and other world leaders as they arrived.
Protesters booed and chanted as a cavalcade of cars flanked by police on motorbikes entered Cardiff Castle by the main gate. Mr Obama arrived by helicopter.