Afghan woman's 'talk to me Nato' Cardiff summit demo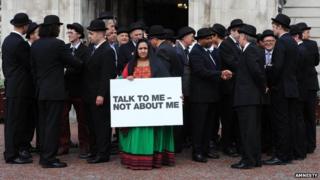 An activist has flown from Afghanistan to Wales to highlight the lack of women at the Nato summit and the fears for women's rights in her own country.
Samira Hamidi, 35, protested in Cardiff as world leaders were meeting nearby to discuss international security issues.
Standing in a symbolic group of bowler-hatted men, she held a banner reading: "Nato: Talk to me, not about me".
Ms Hamidi, who has a York University human rights law degree, said women's voices were "worryingly absent".
Joining campaigners from Amnesty International and lobby group No Women No Peace, she said: "Peace and security agreements cannot be sustainable or effective without meaningful participation from 50% of the population."
US President Barack Obama and Prime Minister David Cameron are heading more than 60 national leaders at the military alliance's summit in south Wales.
The leaders were due to discuss the alliance's role in Afghanistan after the final withdrawal of its combat troops at the end of the year.
'Danger'
But the voices of Afghan women "will once again be worryingly absent," Ms Hamidi said.
The campaigners have criticised the "sexist" nature of Nato's ranks, claiming the UK's delegation to the summit is all male, while only one in every 40 signatories on global peace agreements over the past 30 years has been a woman.
Ms Hamidi said women in Afghanistan did not want discussions on the future of training and support for their country to be taken "behind closed doors".
"Violence against women and lack of health care are serious issues and there is no access to justice for women," she said.
"Danger is there every day for every woman. Every day you go out and you don't know if you will get back home safe or not.
Taliban
"I live in Kabul because it is my country and we have to be there. It is risky and uncertain, especially with the new government and international troops withdrawing.
"But there are so many capable women ready to take the important decisions needed to shape our country's future."
The Afghan army has seen a rise in the number of casualties as it increasingly takes over the battle against Taliban militants from the US-led foreign troops.
Separately, Afghanistan remains embroiled in a political crisis over June's disputed presidential election. The two rival candidates, Ashraf Ghani and Abdullah Abdullah, both claim victory.