Last painting of Dylan Thomas at Cardiff auction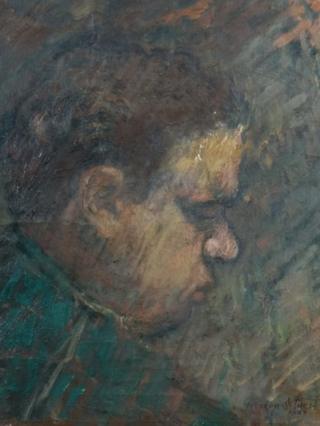 A portrait of Dylan Thomas painted months before his death is expected to sell for £40,000 at auction at Cardiff.
The work has been confirmed by art experts to be the last-known painted image of the poet.
It is one of four created at his home in Laugharne in September 1953 by Swansea artist Gordon Stuart, just before Thomas left for New York.
Three of the paintings are held in collections, including one at the National Portrait Gallery.
Mr Stuart, 90, kept the fourth for himself for the last 61 years but now he wants someone else to be able to enjoy the picture, as he said he will always have the memories.
"He was the perfect gentleman, always very kind and patient while he sat for me," said the artist.
"He seemed so full of life and bonhomie, and was looking forward to going to America so much, that it came as such a shock when I learnt, just weeks later really, that he'd passed away."
Pub visits
Mr Stuart explained that it was not always easy to keep his subject's mind on the job.
"Every time I'd stop for a minute he'd be sloping off down the road for a pint at Brown's Hotel," he said.
"He'd always ask me along too, but I'd just go for a walk while I waited for him.
"If I'd had a drink every time he wanted one, then we'd have never got the portraits painted at all."
As Wales mourned Thomas' death, the four works first went on display at the 1954 National Eisteddfod in Ystradgynlais, Powys
Auctioneers Rogers Jones & Co estimate that the 18 by 14 inch profile view could raise as much as £40,000 at Saturday's sale.
"Surely, Dylan Thomas is the most iconic cultural figures coming from Wales," expressed auctioneer Ben Jones.
"There is a huge American market out there because he had a marvellous influence in the States."