Denbighshire council votes to explore Conwy merger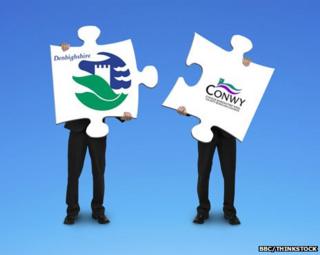 Denbighshire councillors have voted to explore a possible voluntary merger with Conwy council.
Mohammed Mehmet, Denbighshire's chief executive, recommended a proposal to express an interest in the move which was backed by 32 votes.
The Welsh government wants 12 local authorities instead of the current 22.
Conwy council rejected talks on a voluntary merger in January, but recommendations to negotiate a merger will be discussed later this month.
Meanwhile, Flintshire's deputy leader, Bernie Attridge, has suggested the authority is ready to begin talks with Wrexham council.
On Twitter, he said the council's leader wanted a meeting with the local government minister "to discuss transitional finance and support in return for merger".
The Williams Commission proposes reducing council numbers from 22 to between 10 and 12.
However, local government leaders have been worried the shake-up could cost £200m - twice the estimate.
A deadline of 1 October has been set for councils to respond to a Welsh government consultation on mergers.
Denbighshire's proposal on Tuesday was supported by 32 votes at a full council meeting, with one abstention and one against.
Mr Mehmet has claimed there are "advantages" to a voluntary merger rather than having changes forced on them.
He warned that objecting to the plan to reduce the number of councils was not a "neutral" position.
He said he did not think Denbighshire council could deliver effectively the budget cuts it faced in future, and warned the authority faced another six years of difficult decisions.
Mr Mehmet recommended that if neighbouring Conwy agree, it should move towards a voluntary merger by April 2018 - which would see local elections delayed a year until then.
However, he accepted a "substantial financial and support package" from ministers would need to be agreed in advance.
"If it is accepted that mergers, or something else that closes Denbighshire down within the next six years is inevitable then there are several advantages to choosing an earlier merger," said Mr Mehmet.
These include:
Getting a better financial deal from the Welsh government
Setting the "right tone" for the new council
Reducing the number of elections
A Conwy council spokeswoman said a report on the matter was due out in the next week ahead of its council meeting on 18 September.
In January, Conwy council leaders rejected talk of a voluntary merger, calling it "foolish".
However, following Denbighshire's vote, a statement from Conwy council said its councillors will hold a meeting to discuss the possibility of starting merger negotiations on 18 September.
Denbighshire councillors were also told the authority faces finding £18m of budget cuts over the next two years, £4m more than expected in what it calls "the most challenging financial period the council has faced".
The Welsh Local Government Association (WLGA) claims Wales' 22 councils need to save £900m by 2018 from their budgets.