80% of Welsh dementia patients 'lack government support'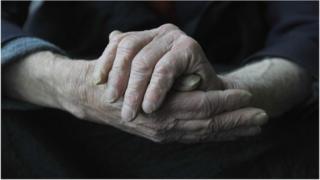 Only one in five people in Wales with Alzheimer's feel they get enough support from government, a report has found.
The Alzheimer's Society is calling on the Welsh government to produce a new dementia strategy.
It wants quicker diagnosis rates and more funding for care in the community.
A government spokesperson said there was a "comprehensive programme" in place to improve services.
The society's report, Opportunity for Change, found over half of people in Wales with dementia had felt anxious or depressed recently.
A second report published on Wednesday for the charity entitled Dementia UK revealed there would be more than 45,000 people in Wales with dementia by next year, with 850,000 in the UK.
The study by London School of Economics and King's College London found the disease costs the UK £26bn each year - two thirds of which is borne by those with dementia and their families and carers.
In Wales, 54% of people in Wales said their carer did not receive help with their caring role.
Case study
Jackie Askey's husband George was diagnosed with vascular dementia following a stroke seven years ago.
She said the support they received was good, but she had to seek it out.
"It involved a lot of effort on my part initially. We asked if there was anything else we could do to help his memory improve and he went on a course, then I found out about a course but it didn't happen straight away. It took quite a long time," she said.
"I still meet people who say 'I don't know what to do or where to go'."
She said one of the most valuable things she had found was getting good support from her GP.
"You need access quite regularly to your doctor and we're very lucky. If I need access I can ring my surgery and a doctor will ring me back. I try not to do it too often but you do get a bit like having a small child. You can't ask what's wrong."
Diagnosis rates
Sue Phelps, director of the Alzheimer's Society in Wales, said the number of people in Wales with dementia was a huge financial and human cost.
"What we need to to is make sure that these people get the right support that they need to live well," she told BBC Radio Wales.
She called the government's 2011 national Alzheimer's vision a "step in the right direction" but suggested it had not been adequately resourced.
Ms Phelps said diagnosis rates were very poor compared to other areas of the UK and needed to significantly increase, which required "clear targets".
She also called for more funding to be switched to social care rather than the NHS as two thirds of people with dementia are living in the community.
A Welsh government spokesperson said it had a "comprehensive programme" in place to improve dementia support services and had invested £130m in new elderly mental health facilities across Wales.
It said its emphasis was on earlier diagnosis and treatment, and for health boards, social care and the third sector to work together for the benefit of dementia sufferers.