Antarctic Peninsula glacier recession 'unprecedented'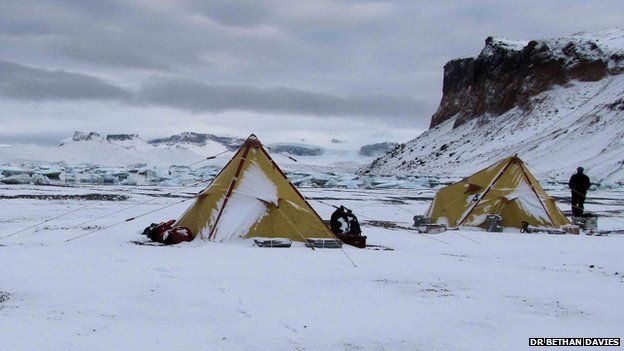 Glaciers around the Antarctic Peninsula are melting faster than ever despite more snowfall, say experts.
Prof Neil Glasser, from Aberystwyth University, was part of a team who studied the ice-core data on a 4km long glacier on James Ross Island.
He said over the next 200 years it "will become far smaller than at any point over the last 10,000 years."
Prof Glasser said: "This unprecedented glacier recession, in response to climate change, will result in significant contributions to sea level rise from this and similar Antarctic Peninsula mountain glaciers and ice caps."
The study, which also used glacier and climate modelling, said rising temperatures in the Antarctic Peninsula has also led to an increase in snowfall.
Dr Bethan Davies, from Royal Holloway, University of London, who led the study, said: "Our findings demonstrate that the melting will increase greatly even with a slight rise in temperature, offsetting any benefits from increased snowfall.
"These small glaciers around the edge of the Antarctic Peninsula are likely to contribute most to rising sea levels over the coming decades because they can respond quickly to climate change."
Related Internet Links
The BBC is not responsible for the content of external sites.