Phones 4U administration: 140 Welsh jobs could go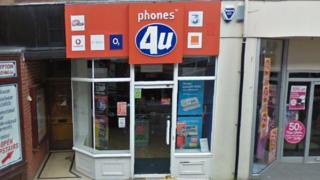 Mobile phone retailer Phones 4U's administration has put 140 jobs under threat in Wales.
The company has 21 Welsh stores as part of 550 across the UK, all of which are closed on Monday.
Phones 4U blamed administration on mobile phone network EE not renewing its contract following the same decision taken by Vodafone.
"If mobile network operators decline to supply us, we do not have a business," said Phones 4U boss David Kassler.
Phones 4U has stores in Cardiff, Newport, Swansea, Carmarthen, Newtown, Aberystwyth, Bangor, Rhyl and Wrexham, among others.
The chain is owned by private equity firm BC Partners and employs 5,596 people.
The company said established mobile contracts taken out through it would not be affected, although phones ordered and not despatched - for example anyone ordering the new iPhone 6 over the weekend - would be.
A customer service line will be open from Monday at 09:00 BST.