Damien Hirst job for Coleg Ceredigion art graduate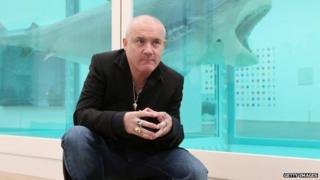 A former student at Coleg Ceredigion has landed a prestigious job as one of Damien Hirst's art assistants.
Sorcha Williams studied for a B-Tec in art and design at the further education college in Aberystwyth between 2004 and 2006.
She has gone on to complete a masters degree in Fine Art at the Slade School of Art.
And Sorcha can expect to be kept busy by her new employer.
Hirst has gained a reputation for using his art assistants to help him create works on an industrial scale, in a similar way to that in which renaissance artists relied on their protégés to paint backgrounds of masterpieces.
His year 2000 "spot paintings" - featuring rows of randomly coloured circles - were inspired and finished by Hirst, but were largely painted by his assistants.
"I was pleased to be offered the post and the chance to use the skills learnt at college and university," Sorcha told her former college's website,
"I'm looking forward to working in a busy studio for a successful contemporary artist and to the new perspective this will give me to reflect back upon my own artwork."
Hirst, who is an entrepreneur, artist and art collector, made a name for himself in the mid-nineties as part of the YBAs (Young British Artists), with controversial works such as "Mother and Child Divided", consisting of a cow and calf dissected into preserved segments.
Julian Ruddock, Sorcha's former art and design tutor at Coleg Ceredigion, said: "Even ten years ago when she was just setting out, you could tell Sorcha had a very special gift indeed.
"She has a natural confidence which comes out in her painting; several of the staff here bought her work for themselves, and an example was hanging in our corridors until very recently."
He added that whilst Sorcha's time at Slade - one of the UK's leading art colleges - will have helped her to find her own style, she'll now have to develop a new skill set.
"Now she's mastered her own style, the challenge of working for someone like Damien Hirst will be to adapt and mimic the "house-style", so that she's able to recreate not just her own ideas, but bring to life other people's visions," he said.
"But if anyone can do it Sorcha can. She's such a lovely girl, and her personality sells her work just as much as her skill does."