Most 'did not need' Jobs Growth Wales claim Lib Dems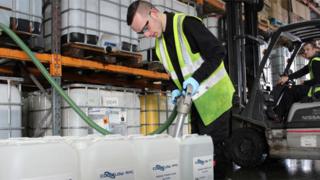 The Welsh Liberal Democrats have criticised a Welsh government flagship young people jobs scheme, claiming the majority would have found work without it.
Jobs Growth Wales was launched in 2012 and funds six-month job opportunities for 16-24 year olds. Nearly 12,000 young people have taken up placements.
An Ipsos Mori review suggested that 73% did not need it.
But the Welsh government said it was "immensely proud" of the project.
As part of the scheme, the Welsh government covers the cost of a minimum wage salary and the employer's national insurance contribution.
"This programme is about helping work-ready young people into employment," a spokesman said.
'Damning report'
"We could have simply sat back and let these young people suffer long periods of unemployment because they had no work experience, but we didn't.
"We acted responsibly and helped nearly 12,000 young people into paid, meaningful employment. That is the bottom line. That is how we measure the success of Jobs Growth Wales."
But the Welsh Liberal Democrats have said the report is damning.
"The fact that three-quarters of the young people on the scheme would have found work without it shows that they've learned nothing from their past mistakes," said the party's economy spokeswoman Eluned Parrott.
"By wasting precious money on people that don't need the support, they are failing the thousands of young people in Wales that desperately do.
"This scheme has done absolutely nothing to help the most disengaged and disadvantaged young people in Wales, and has actually entrenched low wage levels in our young workforce."
However, the review also found a young person is more likely to stay in worker longer following a placement with the scheme and the report says it has encouraged employers to "expand their workforce more rapidly than they would have otherwise done".