Church in Wales publishes guidelines on women bishops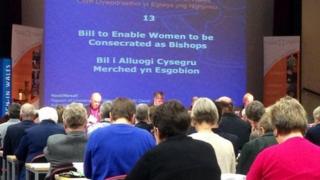 The Church in Wales has set out the rules around women bishops a year after it was agreed women could be ordained.
The code of practice, which makes clear the place of women bishops within the church, was outlined at a meeting in Trinity St David in Lampeter.
It states that anyone who objects to being ordained by a woman bishop can make a written request for it to be carried out by a man.
Archbishop of Wales Barry Morgan outlined the rules on Wednesday.
Dr Morgan said: "I don't expect everyone to agree."
When the legislation was passed at the 140-strong meeting in 2013, the decision was greeted by huge cheers, with Dr Morgan, calling it an "historic day for the Church in Wales".
The legislation was then put on hold for the code of practice to be agreed.
The principles of the code include:
Any woman bishop is on the same terms and has the same jurisdiction as her male counterparts
Any member of the Church in Wales who does not want to confirmed or ordained by a female bishop on grounds of conscience can ask for an "alternative provision" to be made
Dr Morgan said: "This code is not just for those who in conscience dissent but is a code for every member of the Church in Wales."
"Bishops have a particular responsibility for matters of faith and order and we want to be as inclusive as possible which is why we are able to affirm wholeheartedly the ordination of women to the episcopate and can also accept that provision should be made for those who cannot accept their sacramental ministry.
"By making such a provision, our hope is that no-one will feel the need to leave the Church in Wales."