Wales' unemployment rate remains unchanged, says ONS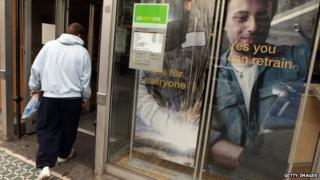 The unemployment rate in Wales has not changed, latest figures have shown.
The jobless total continues to stand at 96,000, for the period May to July, a rate of 6.7%, said the Office for National Statistics (ONS).
UK figures have fallen to just above two million, which is a rate of 6.2% - the lowest since 2008.
Wales' unemployment rate mirrored UK levels earlier this year but, in the last three months, it has not been as strong as the UK average.
Welsh Secretary Stephen Crabb said unemployment among young people was continuing to fall.
"There remain a great many challenges facing our economy," he added.
"This is why it is more crucial than ever that we stick to our long-term economic plan to create the right conditions for growth and jobs in Wales."
BBC Wales economics correspondent Sarah Dickins explains what the latest figures mean for Wales
While in the last six months the UK's rate of unemployment has continued to fall, in Wales it has hit a plateau.
In March, the jobless figures were 6.7% - the lowest since October 2008 - whereas the UK's stood at 7.2%.
But since then, the jobless rate in Wales has been pretty static.
The rest of the UK has continued to fall to 6.2%.
No doubt the Welsh government will be concerned the rate has stagnated.
ONS figures also showed the number of people claiming Job Seekers Allowance has dropped by 2,300 to 54,000 in the last month.
The Welsh government welcomed this and a spokesman said it was at its lowest rate since 2008.
"The figures also show that the unemployment rate in Wales is also down on this time last year, with youth unemployment continuing to fall faster in Wales than the UK as a whole," he added.
'Rising tide'
But the policy chairperson of the Federation of Small Businesses, Janet Jones, said she was concerned at the "rising tide" of economic stagnation.
"There are 39,000 fewer people in Wales who are economically active than there were at the same point last year," she said.
"Among working age women the economic inactivity rate has now climbed to more than 30%."
Ms Jones said Wales had had the largest decrease in the employment rate compared to any other nation and region of the UK during the last quarter.
She said: "Given this data Welsh government needs to be using every tool at its disposal to foster job creation."
ONS senior statistician David Freeman most of the growth has been driven by women working part-time, although there has been a slight increase in the number of full-time workers.
"The number of people working part-time who want to be in full-time employment is down to 1.3 million and is now at its lowest level since the end of 2011," added Mr Freeman.