Stephen Crabb says Welsh tax restrictions could be scrapped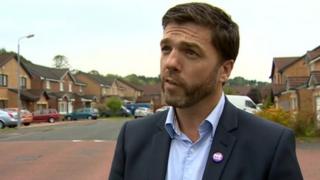 Welsh Secretary Stephen Crabb says planned restrictions on new tax powers for the Welsh government could be removed "sooner rather than later".
As part of the Wales Bill, ministers would get the power to vary income tax after a Yes vote in a referendum.
The UK government has insisted on a "lock-step" system that stops Wales varying tax bands individually.
But Mr Crabb said planned powers for Scotland if it remains in the UK after the referendum could spark a re-think.
"I've always been open minded," he said.
"I think as Scotland is getting a new swathe of tax powers I think it is right that we look again at the lock step and probably sooner rather than later."
Short-changed
Under current plans, if the Welsh government decided to cut the basic rate by 1p, it would have to cut all other rates of income tax by 1p too.
First Minister Carwyn Jones has described the system as "pretty much useless" and the plan caused a split in the Conservative assembly group.
Mr Crabb also suggested there could be moves to deal with a perception that Wales is short-changed by the system for distributing money around the UK, known as the Barnett Formula.
The three UK party leaders have promised not to alter the formula for Scotland in a bid to encourage a No vote.
A cross-party commission in 2009 found that while Scotland was well-served by the system, Wales was under-funded by about £300m a year.
"The work of the Holtham Commission which identified this £300m figure, that's important work we're looking at closely at UK government level," said Mr Crabb.
"I think going forward as part of this re-think of the British constitution, yes we do need to be looking at funding issues as they apply to Wales."
Public spending in Wales is £9,709 per head, per year; in England it's £8,529 per head but in Scotland it is £10,152.