Glyn Ceiriog cottage for sale - complete with a cave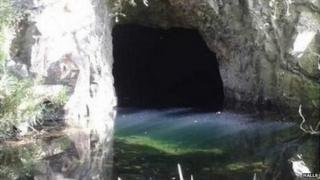 Some people look for extra special features when buying a new house but a cottage in north Wales is offering the ultimate in cool - a cave.
The home near the village of Glyn Ceiriog is being sold with what estate agents say is a "magical feature of the property, extremely unique".
The "spectacular exposed" caverns come with Coed-Y-Glyn Uchaf, which has a £450,000 price tag.
The cave pools have been used for scuba diving to a depth of 125ft (38m).
Dave Thorley has lived there with his wife for 18 years.
He has allowed scuba divers to use the caverns and has also been down himself.
"The water's crystal clear, so the visibility is fantastic," he said.
"On a sunny day the water is turquoise."
Mr Thorley says the water is naturally filtered into the caves from a spring. Because the temperature in the caves is so cool and consistent, they were once used for growing mushrooms.
Now, apart from the occasional diver, the pools are home to trout.
The land in Wrexham county near the Powys and Denbighshire borders also includes stables and former slate mine workings in its 10 acres.
Its owners now want to downsize and have less ground to care for, but Mr Thorley admitted he will miss the caves.
"It's like walking into a huge church, going into the caves, I've never seen anything like it"