Party leaders on what next for Wales after Scottish No vote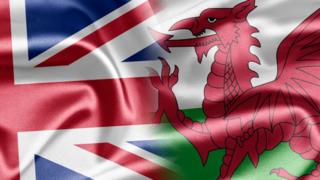 Political leaders from the main parties in Wales have been digesting the news that Scotland has rejected independence - and what that means for devolution.
Prime Minister David Cameron said the UK nations must have more say in its own affairs and Wales will be "at the heart" of the process.
All parties in Wales accepted there will now be fundamental changes to how it is likely to be governed.
Here is how they reacted:
Carwyn Jones AM, Labour, First Minister
Mr Jones told a news conference in Cardiff that Wales should not play second fiddle and receive full funding - saying it was under-funded by £300m a year under the current arrangement.
"The old union is dead. It's time for a new union," he said.
"It's time for our constitution to be put on a coherent footing, no more tinkering at the edges year after year.
"The UK has suffered a serious injury and a sticking plaster will not do."
Stephen Crabb MP, Conservative, Welsh Secretary
Mr Crabb said he had been talking to Mr Cameron about the need for Wales to be "front and centre" of any talks and said he was "totally reassured" it would be.
"What's really important is that the aspirations of the people of Wales are satisfied and I can well see that aspiration and ambition increasing for Wales, and we're a government who wants to see that met."
He added: "I'm open minded about tax powers in Wales... Scotland makes the case for looking at the issue again."
Kirsty Williams AM, Liberal Democrat, Welsh Lib Dem leader
The Welsh Liberal Democrats say the Silk Commission, looking at more powers for Wales, should be a blueprint for future talks.
Leader Kirsty Williams said Wales must speak with a unified voice when the issue of more powers to the UK nations is decided upon.
"What's crucial for me is that Wales plays a central part in that, that we're not forgotten and that we can move forward to see the creation of a proper Welsh parliament and the long-cherished liberal goal of home rule for Wales," she said.
Leanne Wood AM, Plaid Cymru, leader
Plaid Cymru leader Leanne Wood fears Wales could miss out at the top table, with the UK government more interested in a settlement involving Scotland and England.
She said there was an appetite for more powers in Wales but fears the country could end up with a second-class settlement.
"We know Scotland will be offered new powers. It would be unthinkable and unacceptable for powers for Scotland but a second-rate bill for Wales.
"We cannot continue to play catch up."