Prescribing powers given to physiotherapists in Wales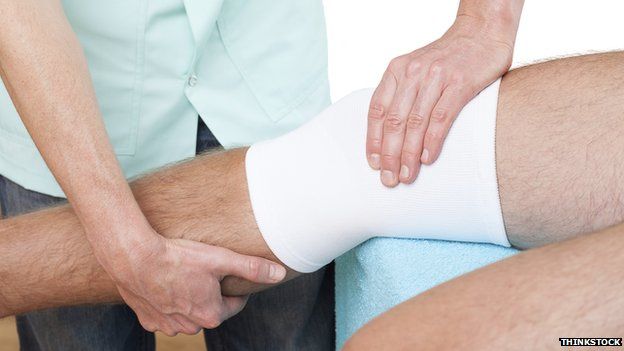 Physiotherapists are being given the power to prescribe medicines under new laws coming into force in Wales.
It means fewer patients will have to go back to their GPs for prescriptions.
Health Minister Mark Drakeford said patients would get "a faster, more effective service with quicker access to the medications they need".
The change, which also applies to chiropodists and podiatrists, is also aimed at easing pressure on other parts of the NHS.
Nurses, pharmacists and optometrists can already prescribe medicines, with powers now extended to additional groups of health professionals - subject to training.
Gary Morris, a physiotherapist in Carmarthen, has already had the training and is registered to prescribe medicines to his patients from Wednesday.
"Many people with long term conditions require a combination of medicines and physical management to best meet their needs," said Mr Morris.
"Independent prescribing puts physiotherapists in a unique position to meet these needs and support people to be more independent, have better control of their symptoms and ultimately have a better quality of life."
Kayleigh Davies, a 27-year-old patient of Mr Morris, had to put her degree course on hold when a spinal tumour left her in a wheelchair.
She had physiotherapy after an operation to remove the tumour, and said the new rules would ensure quicker treatment when she next needed it.
"While I was having physiotherapy I developed spasms in one of my legs which meant I couldn't progress with my rehab," she said.
"One of the physiotherapists in the team was able to treat this with Botox injections to stop the spasms but I had to wait to see a consultant before they could start the treatment.
"With the changes in the law I won't have to wait to see a consultant if I need the treatment again, which is great."
The new rules bring Wales into line with England, where the right to prescribe for physiotherapists was set in August 2013, and Scotland in May 2014.
UK Health Minister Norman Lamb hailed it as a "huge milestone in the long battle for recognition of physiotherapists' skills".
A spokesperson for the Chartered Society of Physiotherapy said: "We are pleased to report that physiotherapists in England and Scotland are making the most of the opportunity they now have to enhance patient care as independent prescribers.
"We have noticed that the new powers have made a particularly strong impact in both neurological rehabilitation and in the treatment of musculoskeletal conditions, such as back and neck pain."