Poll asks if Welsh element to Union flag idea is a flyer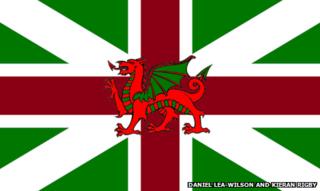 When it comes to the Union flag - is there flagging interest in Wales finally being included?
The Scottish referendum campaign featured a fringe debate on what should happen to the Union flag, which for 400 years has missed out a Welsh element.
A ICM/BBC Wales poll has found 45% back a dragon or a dash of green being added to the flag.
But 36% said the Union flag should not be changed while 16% said they didn't care, it was not their flag.
Flag facts:
The flag hails back to 1603 when King James VI of Scotland inherited the English throne.
The Jack is a term for a flag flown at sea.
The Union flag has the Scottish Saltire element of the blue background and white cross and the diagonal red cross of Northern Ireland. But Wales is not included.
The union flag was never formally accepted as the flag for the UK, so there is no reason it cannot be changed
Wrexham's Labour MP Ian Lucas proposed in 2007 that the union flag be combined with the Welsh flag to reflect Wales' status within the UK, and that the red dragon be added to the Union Flag's red, white, and blue pattern.
Charles Ashburner, chief executive of the Flag Institute and owner of Mr Flag in Swansea, is in favour of a Welsh element.
He says the Union flag has been "mistreated" and "neglected" and had never been formally adopted.
"Our flag has been left without governance or protection by any constitutional instrument whatsoever".
ICM Research interviewed a random sample of 1,006 Welsh adults aged 18 or over by telephone on 19-22nd September 2014. Interviews were conducted across Wales and the results have been weighted to the profile of all adults. ICM is a member of the British Polling Council and abides by its rules.