Michael Sheen to retrace 1839 Newport Chartist uprising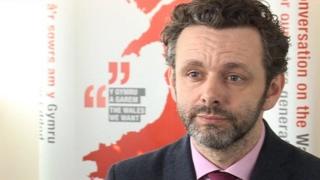 Hollywood actor Michael Sheen is to retrace the Chartist Uprising of 1839 for a BBC Wales documentary.
He will follow in the footsteps of around 3,000 people who took part in the protest which led to bloody rebellion in Newport.
The actor previously criticised Newport council after a mural depicting the events was torn down in 2013 to make way for a shopping development.
The BBC programme will mark the 175th anniversary of the march.
Filmed over five days, Sheen, who was born in Newport and is the star of films including Frost/Nixon and The Queen, will travel the route taken by the marchers.
He will visit shops and pubs to meet people in the area and find out their views on politics and social change.
Hanged
The 1839 march was led by Chartist leader John Frost, a former Newport magistrate and mayor who was forced out of office for his radical views.
It resulted in a confrontation with troops at the town's Westgate Hotel which left around 20 protesters dead.
Frost was convicted of treason and sentenced to be hanged, drawn and quartered but he was later sent to work in Australia instead.
He survived and later returned to Britain, where he continued to campaign for political reform until his death aged 93.
In 1978 a 200,000 glass and tile mural by artist Kenneth Budd depicting the events was put up in an underpass at John Frost Square.
It was pulled down last year to make way for a planned shopping development, despite calls for it to be preserved.
Sheen was a high-profile critic of the decision, prompting him to write an open letter to the South Wales Argus saying: "The political system has let us down."
The one-off documentary documenting the Chartist uprising will air on BBC Wales next year as part of a season looking at aspects of life in the south Wales Valleys.