Prince Philip Hospital A&E shake-up in final stages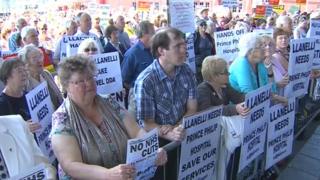 Doctors have given more details about how a controversial shake-up at Prince Philip Hospital's accident and emergency department is to work.
They want to reassure people who fear the Llanelli unit faces downgrading.
The most seriously ill patients will by-pass the emergency reception and be able to see a consultant immediately at a separate emergency medical unit.
The plans are in their final stages and involve GPs and specialist nurses dealing with minor injuries.
The decision to make changes was given the go-ahead a year ago and caused huge controversy in the area, with Carmarthenshire council condemning the changes and campaigners launching a legal challenge, which was refused.
Hywel Dda University Health Board said its plans, drawn up by senior medical staff, have been making progress.
Dr Sian Lewis, project manager, said: "People in Llanelli are very passionate about their local hospital and we are being very clear that these changes are not about doing less, they are about doing things differently.
"Prince Philip Hospital will continue to provide an emergency service 24 hours a day, seven days a week."
The hospital's emergency department has seen 33,699 patients over the last year.
Usually about 6,500 are major cases and just over 400 need to be transferred to another hospital. Management do not see this changing.
Cutting waits
Emergency nurse practitioners - who can assess injuries and interpret X-rays - along with GPs at the unit will have extended training to deal with a variety of minor conditions.
If a minor injury turns out to be more serious than anticipated, immediate advice will be on hand from experts at Glangwili Hospital in Carmarthen.
Patients arriving as emergency cases by ambulance or from a GP will bypass the injury unit and be seen in the separate emergency medical unit.
"This will reduce time spent waiting to be assessed, allow earlier access to senior clinicians and avoid having to go through the emergency department," said Dr Robin Ghosal, who is leading the acute medicine programme.
Hywel Dda Community Health Council, which had been unhappy with some of the plans for mid and west Wales 18 months ago, said there had been "significant progress" on the project at Prince Philip.
"Everyone involved is fully committed to the project for the people of Llanelli and surrounding areas," said Helen Williams, acting deputy chief officer.