Boat seized in Pwllheli after £100m cocaine haul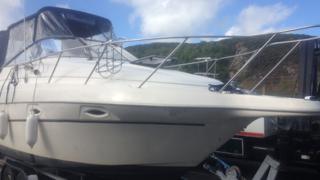 A motorboat believed to be linked to the discovery of £100m of cocaine on a yacht off the Irish coast has been seized at a north Wales marina.
The yacht, Makayabella, was intercepted on Tuesday after it was tracked from the Caribbean and security sources said it had been destined for north Wales.
It is believed the 25ft vessel seized at Pwllheli Marina in Gwynedd was to be used as an accomplice to ferry the tonne of drugs to shore.
Five British men have been arrested.
The National Crime Agency (NCA) said the inquiry in Gwynedd followed an operation to track the 60ft Makayabella yacht from Venezuala, before stopping it in a surprise sea raid 300 miles off the south west coast of the Republic of Ireland.
It is understood the 41 bales of cocaine were bound for the north of England as part of a transatlantic drugs smuggling operation.
Three men on the yacht - the 70-year-old skipper, along with a 35-year-old and a 28-year-old - were arrested after Irish navy officers stormed the vessel in an overnight operation also involving the UK, France and Venezuela.
They are from West Yorkshire, where police arrested two other men aged 43 and 47 in follow-up raids.
Officers also want to talk to a sixth man on suspicion of involvement in the massive drugs smuggling operation.
The three men who were taken off the yacht are being questioned in Cork and can be held for seven days.
The 43-year-old man arrested in Leeds on suspicion of conspiring to import class A drugs was later bailed pending further inquiries.
Commander David Norris, of the NCA, who is leading the investigation, said they have been granted more time to question the 47-year-old suspect still in custody in the UK.
"This has been a complex and fast-moving investigation, involving law enforcement agencies in the UK, Ireland, Europe and South America," he added.
"Our inquiries are continuing, and we still wish to speak to one other individual in connection with this, a 29-year-old man from the Halton Moor area of Leeds.
"I would urge him to contact us."
The NCA said the boat seized in Pwllheli Marina is now being examined by crime scene investigators at another location.