New .wales and .cymru domain web addresses go live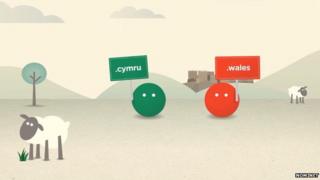 Web addresses ending with .wales and .cymru are going live after years of campaigns for a Welsh internet domain.
The National Assembly, the Welsh Rugby Union, main political parties and leading Welsh newspapers are among the first to adopt the new-style weblinks.
The assembly's presiding officer Dame Rosemary Butler said it would help "brand recognition" for Welsh firms.
The opportunity will be extended to all businesses in November and the wider public in March.
The official launch of the domains takes place at the Senedd in Cardiff Bay at 18:00 BST on Tuesday.
Making the switch to .wales and .cymru - founder members
Dame Rosemary said brand recognition was essential for organisations and businesses to successfully promote their work and interests.
"A .wales/.cymru brand will be an enormous help to Welsh organisations as they strive to make their voice heard around the world," she said.
Former rugby star Ieuan Evans, chairman of the Wales Advisory Group for internet registry firm Nominet, said: "Today heralds a new era for Wales in the digital world.
"The first group of websites going live today marks only the beginning of this new and innovative venture for Wales."
A spokesperson for Nominet said most of the organisations involved were expected to keep their existing .co.uk or other web addresses during the transition, although approaches would vary between founders.
The domains .wales and .cymru are among several being created by the Internet Corporation for Assigned Names and Numbers (ICANN) to meet the growing global demand for internet addresses.
Other new domains include .london, .paris and .china.