Does Newport man have Britain's biggest minibar?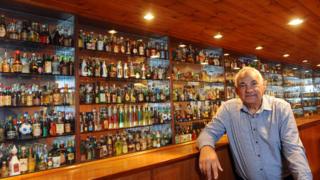 There's no short measure when it comes to Eddie Hayes's hobby - a collection of 2,000 miniatures from hotel minibars around the world.
And what is even more unusual is the retired businessman does not touch a drop of alcohol.
Instead the bottles, collected over 42 years, sit on shelves around a 30ft bar at his Newport home.
"I would never dream of drinking them - and let's face it they would give you one hell of a hangover," he said.
The collection started after he was given some miniatures as a present.
Mr Hayes, 71, who owns an office supplies business, has spent thousands of pounds on his hobby on his travels over the years, with friends adding to the unusual cellar.
"Although it must be worth more than £10,000 I wouldn't dream of selling it," he said.
Unusual spirits include a medieval mead and a type of ouzo bought in Iraq when it was under the control of Saddam Hussein.
Bottles include ones shaped like the Loch Ness monster, eagles, rugby balls and books.
But is he ever tempted to crack one open?
"I went off alcohol a long time ago after I drank a cocktail of spirits which was disgusting," he said.
"I might have the odd lager and lemonade shandy now but that's all. So my collection is safe in my hands."