Wales rugby coach Warren Gatland receives OBE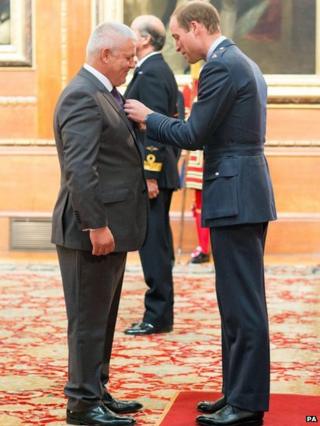 Head coach of the Wales rugby team, Warren Gatland, said he was touched and nervous receiving his OBE from the Duke of Cambridge.
Gatland, who is from New Zealand, was recognised for his services to rugby at an investiture ceremony at Windsor Castle.
He said he and Prince William talked about rugby, particularly World Cup preparation.
"It's pretty nerve wracking going up there," he said.
"It's a massive honour...being in a great setting like this. I'm very touched by it really,"
Asked how his nervousness before today's ceremony compares to how he feels before an important fixture, he said: "About the same."
He said the award was a "great honour" but added: "I can't not recognise a huge number of people that I've been involved with that have helped me get this far and they're incredibly important as well."
The honour for Gatland follows his success in coaching the British and Irish Lions to a 2-1 series victory against Australia in 2013.
He angered Irish fans by controversially dropping Brian O'Driscoll from the Lions's third test against Australia in the summer of 2013, but he said the pair have put any ill feeling behind them.
Asked if he thought the Irish rugby star would be sending his congratulations on the award, he said: "He probably will be, yeah. He sent me a Christmas card last year. I sent him one back as well."
O'Driscoll had reportedly said it would be "unlikely" that Gatland would make it on to his Christmas card list.