Welsh council leaders warn local services will disappear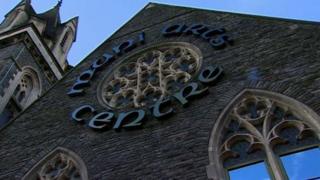 Key services will be "dismantled" and the "very fabric" of communities will be tested after budget cuts, council leaders have warned.
Local authorities have been told they will get £146m less from next April from the Welsh government.
But ministers insist none of Wales' 22 councils will see an individual cut of more than 4.5%.
The Welsh Local Government Association (WLGA) said some local services will be "crushed" by further cuts.
Councils will get £4.12bn in their block grants - an overall cut of 3.4% on this year.
But the WLGA said local services had been placed "bottom of the pile" in Welsh government funding priorities for a second year running.
It said local services would be scaled back and spending on them was now "in reverse gear".
'Tough times'
But Public Services Minister Leighton Andrews told BBC Wales times were tough.
"The Welsh government's budget has been cut by £1.5bn by the Conservative-led UK coalition government and you heard, just two days ago, the prime minister saying he wasn't prepared to support a fairer funding settlement for Wales.
"That's the reality we the Welsh government are having to work in and it's the reality, I'm afraid, local government is having to work in - these are very tough times."
WLGA leader Bob Wellington, of Torfaen council, said national politicians needed to support difficult decisions taken locally and to set "clear and realistic priorities" for public services throughout Wales.
"The financial issues affecting local government will impact on us all," he said.
"They will impact on the range and quality of the services we receive, the taxes and charges we pay and they will impact on the very fabric and resilience of communities in Wales."
Mr Andrews said he accepted the settlement was "challenging" but was a result of reductions in UK funding.
'Dismantle services'
"Unlike England, we have protected local authorities in Wales from the bulk of these cuts over the past five years," he said.
Denbighshire council leader Hugh Evans, who is also leader of the WLGA independent group, said other services would be "dismantled" to protect spending on education.
"We want to ensure that the young sportsmen and women of the future have leisure centres in which to train and grow their skills, and we want to protect the day centres that support many of the most vulnerable within our communities," he said.
"To achieve this local services must be prioritised and adequately funded by Welsh government, not simply cut to ribbons."
The WLGA also argued that the call for getting rid of "expensive" council officers and reducing the number of councillors would only save around £18m, while councils were looking at a £900m predicted budget black hole over the next three years.