Independent bookshops making return to Welsh high streets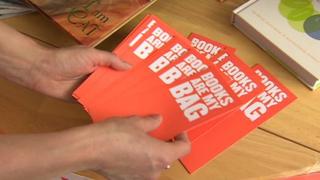 There's growing confidence that small independent bookshops could be making a return to Welsh high streets after years of pressure from online sites that saw many close.
The industry has launched three days of festivities under the banner of "Books are my Bag" to encourage people to read more, culminating in parties in bookshops across the UK on Saturday.
It has been a tale of woe for many independent local bookshops over the past decade.
About a third have closed across the UK and there are now only 987 shops left.
But a new shop in Rhondda Cynon Taf is one of those that's bucking that trend.
It opened at the end of last month with a local author Wonny Lea signing books.
Richard Kemp, the co-founder of Books and Pontyclun, got into the trade three years ago when he took over a bookshop in the Cotswolds which was closing.
More shops
He said: "It was very scary opening the first shop, because everything was unknown.
"It's very expensive and you're testing everything for the first time."
Books and Pontyclun is one of his five shops and he is planning to open others in Cardiff and Bridgend.
He is also working with people so they can use it as a model to establish their own shop.
Bookshops have higher overheads, due to rent and staffing levels, than many online stores.
Many report people browsing in-store before leaving to buy online.
Mr Kemp is aware of the problem.
'About service'
He said: "People certainly do that. But it's all about service for us and providing a place people can come and talk about books."
Organising events with writers is also a key selling point.
Books and Pontyclun will also be giving space to promote products from other businesses.
Attracting customers who might want more than books is a model that has been working for Book-ish in Crickhowell, near Abergavenny.
The shop is taking part in this week's 'Books are my Bag' campaign.
It is celebrating its fourth birthday this week and has expanded from books to stationery, gifts and toys.
Rachel Cadman works there one day a week as well as running her own furniture making business.
She said: "Running a lot of events at the shop is very important for the community."
The pressure on shops like Book-ish has not just been from those buying online but also from those who use the digital eBook format.
'Up their game'
After rapid growth, experts say demand for eBooks is beginning to level off.
President of the Booksellers Association, Tim Walker, believes independents can capitalise on that.
He said: "One of the advantages of all this fierce competition is that it has made bookshops really up their game and know their customers well."
Books and Pontyclun, Book-ish and local shops like them will continue to find ways to thrive.
To paraphrase Mark Twain, it seems reports of their death were an exaggeration.