BMA Wales says suspension threat stops concerns being raised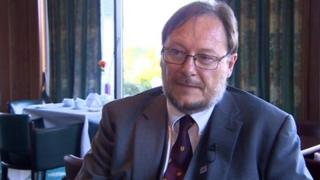 The fear of being suspended from work is deterring doctors from raising concerns about the NHS, according to a doctors' union.
The British Medical Association (BMA) said the current system acts as a barrier to flagging up issues.
They have also criticised how long inquiries into concerns take, with some cases taking more than two years.
The Welsh government said there should be no victimisation of those raising genuine worries.
The BMA said more than half of the cases of the 10 senior doctors it is involved in representing across Wales, who are either suspended or on "restricted duties" pending disciplinary investigation, arose after the doctor involved highlighted significant concerns about aspects of clinical care.
Phil Banfield, chairman of the BMA's Welsh council, said: "It's certainly the view of many of our members, and we've been listening to this for some time now, that… colleagues are being victimised by raising concerns about clinical care."
Procedure
The BMA said that suspensions such as the ones referred to cost the NHS more than £1m a year in wages and locum cover costs. However, this makes up a tiny percentage of the annual cost of running the NHS in Wales every year, which is about £5.5bn a year.
But Mr Banfield also said time limits should be put on suspensions, in line with a new disciplinary procedure for doctors which they say was agreed with the Welsh government and health boards more than a year ago, but which is yet to be implemented.
One Cardiff surgeon has been suspended on full pay since April 2012, pending an investigation into bullying claims.
He was suspended around 18 months after raising concerns about the care patients' had received.
But Graham Shortland, Cardiff and Vale University Health Board's medical director, said the surgeon's suspension was completely unrelated to the fact he had earlier raised concerns about patients' care.
He said: "When serious allegations are made, the UHB has a duty to patients, staff and the people we serve to investigate such allegations thoroughly.
"Unfortunately, through no fault of either party, the process, which has already taken far too long, has been held up."
The Welsh government says that the new disciplinary procedure referred to by BMA Wales will be discussed at a meeting with the organisation next week.
'Life turned upside-down'
A consultant who was suspended after raising concerns before returning to work told BBC Wales: "It felt like my whole life had been turned upside-down.
"When you are allowed back, you have to agree to be babysat for a period of time… some young locum observing you… which is demeaning.
"The worst thing is you don't know how long it's going to be. You worry about losing your skills and not being able to function again."