Arriva Trains Wales rail conductors hold second strike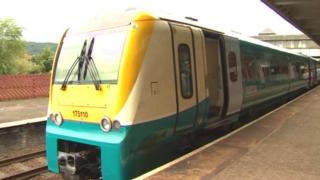 Conductors on Arriva Trains Wales services in north Wales are to hold a second strike in a row over the dismissal of two union members.
The RMT union called the action after two conductors with nearly 900 days sickness absence were sacked.
The 48-hour disruption will begin on Thursday and affect staff working out of Holyhead, Chester and Llandudno Junction depots.
Arriva said it was working to resolve the situation.
The previous strike was held on 10 October for 24 hours.
The union is also continuing a ban on rest day working into November and is instructing members not to work outside the boundaries of terms of employment.
RMT general secretary Mick Cash said: "This escalation of industrial action has been caused wholly by the dismissal and victimisation of two RMT members following management's failure to abide by the agreed procedures.
"They have deliberately chosen not to exercise discretion but have instead opted to take the hard line approach of dismissal.
"It is that action that has resulted in a total breakdown in industrial relations."
Arriva previously said the two conductors were dismissed for continued failure to attend work and between them had accumulated over 890 days of sickness.
The company said it was disappointed with the action.
"Despite an agreement for a meeting with ACAS, where we were hoping to discuss and resolve this issue, the RMT have decided to issue their notice for industrial action prior to these talks taking place," Arriva said in a statement.
Customers are advised to check journey plans with station staff or visit Arriva's website for updates.