Vicky Davies jailed for 12 weeks for abusing 999 service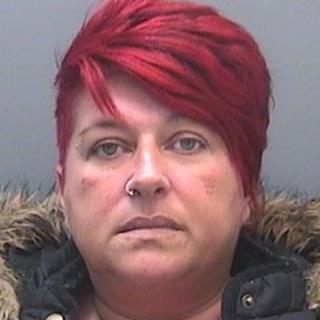 A woman who called the emergency services 200 times in two years with fake symptoms to get pain medication was "depleting life-saving resources" from the health service, say officials.
Vicky Davies, 43, from Ynysybwl, Rhondda Cynon Taf, was given a jail sentence after ignoring conditions imposed under previous court orders, said Rhondda Cynon Taf council.
Bosses said her actions had been an abuse of the emergency services.
They took action with health officials.
In a joint statement issued on Tuesday, they claimed she would call the services - or get others to call for her - and fake symptoms to secure a "blue light response, upon which she would demand pain medication in the ambulance and at hospital".
They added: "Once she had received what she wanted, she simply walked out of hospital without being discharged."
The council's anti social behaviour team, Cwm Taf University Health Board and the Welsh Ambulance Service said they secured an anti social behaviour order (Asbo) in August to try to stop her from contacting health services without genuine need to try to get access to drugs like morphine.
Magistrates' court appearance
They said "her abuse of the system", securing a response from ambulance clinicians and medical staff at hospitals, has "cost of hundreds of thousands of pounds".
However, less than 24 hours after the first court order had been made, the council said she breached it by dialling 999 and using "practised phrases" in order to secure an emergency response and access to medication.
She went on to breach the order a further three times in three weeks, said the council, leading to an appearance at Pontypridd Magistrates' Court last month, where she admitted breaches of the Asbo.
She was given a suspended prison sentence of six weeks, the council said.
It claimed she breached the order again, the first time six days after her court appearance, and then three further times in early October.
The council said she appeared before the court on 15 October, where the original six-week suspended sentence was put in place and a further six week sentence was also imposed for the further breaches, meaning she will serve 12 weeks in prison as the sentences will run consecutively.
Council public health and protection director Paul Mee said: "Vicky Davies was literally depleting life-saving resources and endangering the lives of others with her behaviour, which is why we all joined forces to not only secure the order in the first place, but continue to pursue her through the courts if she breaches."