Meningitis vaccinations call by Public Health Wales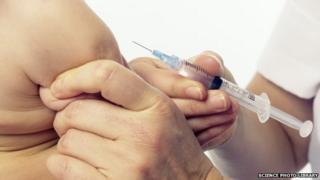 Vaccinating young children against meningitis remains the key to tackling the disease, experts have warned.
Public Health Wales said meningitis remained rare and difficult to diagnose with symptoms like fever and rash - similar to many other diseases.
About 1,600 cases of meningitis or meningococcal septicaemia were reported in Wales between 2003 and 2012.
Consultant Dr Ciaran Humphreys said advice was available to help doctors and families stay alert to the dangers.
Meningitis - possible early signs in babies or young children
high fever, with cold hands and feet
vomiting and refusing to feed
agitated and not wanting to be picked up
drowsy, floppy and unresponsive
grunting or breathing rapidly
unusual high-pitched or moaning cry
pale, blotchy skin, and a red rash that doesn't fade when a glass is rolled over it
a tense, bulging soft spot on their head
a stiff neck and dislike of bright lights
convulsions or seizures
Full details available from NHS Direct Wales
A report into child deaths from meningitis found majority of the 1,600 reported cases involved children and young people under 18, with the highest rates found in babies under one year of age.
Eighteen children or young people died between October 2009 and July 2014, of which 12 were through the meningococcal disease and the others involving bacterial meningitis.
Dr Ciaran Humphreys, deputy director of the Public Health Wales Observatory and an author of the report, said that with early signs of meningitis difficult to spot, immunisation with vaccines such as MMR was important.
"There is clear evidence that vaccinations have been extremely successful in preventing certain types of meningitis, and so it is also hugely important to ensure the current vaccination programme for children is effectively implemented," he said.
The report recommended universal vaccination against meningitis B in early childhood, backed in March 2014 by a UK panel of experts which had previously rejected it as not being cost-effective.
Public Health Wales said in a statement that "several issues, such as cost and supply, still need to be addressed before the vaccine is introduced".
"The Department of Health is negotiating with the manufacturer on behalf of the UK government and devolved nations, including Wales."