Monitoring of Dance Company funding gets seal of approval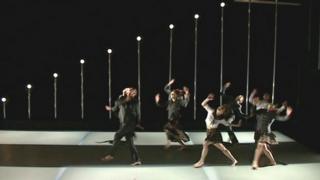 The monitoring of funding for the National Dance Company Wales has been given the seal of approval.
Auditor General for Wales, Huw Vaughan Thomas, said he was "satisfied" with the way Arts Council of Wales had kept an eye on its funding for the company.
Mr Thomas investigated the arrangement after the company's artistic director left and most of the board resigned.
He told Plaid Cymru AM Bethan Jenkins the Arts Council (ACW) had "effectively monitored" the funding.
ACW welcomed the report.
National Dance Company Wales will get funding of £853,000 in 2014/15 along with an extra £40,000 to help with recruiting new management.
Report recommendations
A confidential report seen by BBC Wales earlier this year determined the company was "facing a crisis in its governance and its management".
It recommended the old board step down and that chairman Andrew Davies and two other directors oversee the appointment of a new board by January 2014 before leaving.
While the auditor general had "some concerns" about the time taken to achieve a new structure at NDCW, he agreed the delay was justified to ensure the process is done well.
A spokesman for ACW said: "As a public body, funded by the taxpayer, it is entirely proper that we are seen to manage our affairs appropriately.
"We are therefore pleased to note that the Wales Audit Office has completed its enquiries and concluded that on this matter we have operated effectively."
Andrew Davies, chair of National Dance Company Wales, said the company was looking to announce the new artistic director and chief executive by the end of October.
"We expect to have a new board in place and complete the restructuring of the company by the end of 2014," he said.
Plaid Cymru's culture spokesperson Bethan Jenkins said she was "glad" that the auditor had investigated the matter.
She said it was "crucial that taxpayer's money is managed properly, and it is important that structures exist to ensure the highest standards are kept".